LADIES: Have you ever found yourself asking the following?
How much protein do I need?
Should I go low-carb? And what is low carb?
How many times do I need to eat in a day to maximize metabolism?
Should I eat a low-fat diet, and if so, how much??
What should my caloric intake be at my age / activity level / weight?
How many days of weight training is enough to see real results?
How much cardio should I do? What type?
What if I'm vegetarian? Is there a different approach?
I have some injuries…how do we work around that?
How much should I lift and how often should I change up my program?
What about recipes….what should I be eating?
What is a realistic weight loss goal for 10 weeks?
Oh yeah, all good questions, and ones that have plagued women for their entire lives (more than likely). Sadly, most women get their answers from 2 sources: the Internet and well-meaning family and friends. Both are fraught with disaster!
Women on my 10-Week Best Shape Challenge get the real goods: we go through it all, and more. What makes this program successful is multi-faceted. First, it's based on real-life experiences gathered from hundreds of women over the years who have improved and solidified their physical, nutritional, and spiritual health and wellness (yes, spiritual…a BIG component of our work here at McCoy Fitness). We use sound nutritional dictates, sports nutrition research, and yes, we use weights to build, shape, tone and strengthen those lovely vessels of ours!
And we offer TONS of support: coaching calls, email, and whatever a client needs to move forward on her healthy living journey. Because this is a journey, to be sure, and one that we can embrace with confidence, with no gimmicks, built from the ground up, sustainable, practical, and successful.
I created the Challenge 6 years ago because I was frustrated with the fitness industry, and seeing women spend so much money on trainers who simply could not relate to a 40 or 50+ woman and all her complicated needs (really, can a 25 year old trainer really relate? And can you PLEASE stop making us do burpees?!. And what about the Canada Food Guide…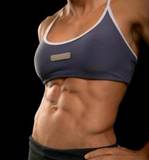 really? (Let's scrap that one all together)! And us women need a support network of like-minded women to call on, something all of us on the healthy living journey certainly need for success. It's time we serve women properly, professionally, with integrity and within a limited budget that they can afford. Enter on-line training….real on-line training (which is NOT just a workout program emailed to you with some recipes!)
With the Challenge, you get it all. For the price of four 1-hour sessions with a trainer, you get 10-weeks of non-stop learning about fitness, nutrition and how we can feed our thirsty spirits! And I'm with you every step of the way. Promise! You won't fall through the cracks! And we have a philosophy for living, a motto, a creed, that guides us Warrior Women out there. Real. Honest. Earth-based.
Come join us. Because no woman is an island. We're all in this together!
karen
For more info, please visit www.bestshapechallenge.com. We kick-off in 4 days! We have a few spots left! We'd love to have you join us!
" I loved every part of the Challenge! I learned sooo much, and there was so much support every week. I especially loved the Coaching Calls and the Q's and A's Audios. And you cleared up all the nutrition info that we are bombarded with every day! And I'm loving my body changes. I didn't think it was possible at 53, but yes, it is! And it's just the start for me! Thank you Karen!"  – Denise Carbonde, Alberta
"Down 13 pounds and 7% bodyfat. Doesn't that say it all? Thanks for a non-stop program Karen. It's hard to explain it to people, there's nothing like it out there! I'm yours forever!" – Samantha Grabowski, Vancouver, BC