Awhile back, I had lunch with a friend in Victoria who was looking pretty fit! When I asked him what he was doing, he said, "I just use a Fitness App." Then he added, "and that's what you're up against in your business. Anyone can get this fitness stuff for free."
I was struck by his comment, and I mulled it over all day. Was I really up against all that? And if so, how could I ever expect to keep my business going with all that 'free fitness stuff' out there, including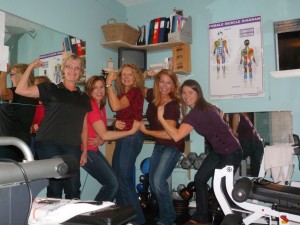 the ever-increasing world of apps?
Then the clouds cleared. I got it. He was wrong (sorry Jose, I love you!) and it all made sense….it worked for him, but he's one sector of the population. But I've always been on another horizon, one that's getting brighter every day.
See, people can learn to tune their own car engine, but they don't: they take it to Midas or something. You can learn to prime your own pump, dig your own well, or insulate your own attic. Heck, you can even build your own house (and often times it looks like it too!), but most people get the experts to do it for them.  
Some people choose to do it themselves because they want to save money, so they download free music, videos, apps, and the like. But many other people (especially women) are making their way back to the personal touch, something that's been missing in our society (and in business) for years, when we drifted off course and away from the 'family-run grocery store' in favour of the big box stores, the cheap deal, the sales, the freebies. But the tide's a'shifting…
I offer my clients the personal touch. Fitness – and our bodies – is our temple, and with all precious things, it deserves the personal touch (in my opinion), and I'm that touch. I'm the Mother Ship, so to speak, the lifeline, and I'm there every step of the way. And I know the road you women are on, the long journey, from ill health to good health, and all things in between, the struggles with family, responsibilities, motivation, temptation! LOL!
My programs are organic – built by me, overseen by me. Period. I'm at the end of every email – every email – and with over 100+ on line clients, it's a daunting task, but it's the way I run it. That's my philosophy. That's my promise. To you.
So go ahead you techies and download your fitness apps…that's what they're there for, for techie-saavy people like you who want it clean, simple, downloadable, free, and at your fingertips. That's one niche market. But I've got my own with my growing female clientele that want and crave the personal touch, and who want someone – not something – that lives and breathes the journey alongside with them. For them, it's about inspiration over information, I guess you could say.
karen
REMINDER: Both the 10-Week Best Shape and 12-Week Advanced Best Shape Challenge are starting again in April! Sign up has begun! Only 20 seats in the 10-Week and 20 in the Advanced 12-Week! Do it for YOU! YOU deserve it!