I love muscle.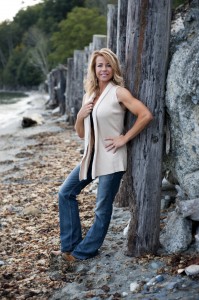 I love watching it move. For me, muscle represents life and vitality. It's graceful and sensual. It oozes health and confidence. 
As a competitive bodybuilder, it was only natural that I write a fitness book. In fact, this book was originally written as a how-to training book about a year ago. Then I threw it out and started again. I needed to tell the real story, my story, of what real health and wellness means to me and to women everywhere.
One Rep at a Time is a book about women and health told from a very different place. It is carved out from that most mysterious of all journeys, the dark night of the soul – as described by mystic John of the Cross – that moment in time when we are faced with seemingly insurmountable challenges that offers us a kind of rebirth, and the chance to live life from a greater place. It's a journey we must all take toward wholeness, perhaps more than once, in order for us to live our best life physically, mentally, emotionally and spiritually.
I have spent most of my life teaching women how to build strong, shapely muscle, yet I gave birth to a child with a terminal muscle-wasting disease. The irony has not been lost on me. Looking back, I see that I had no choice really. This story needed to be told and I had to tell it for women everywhere.
My own dark night spanned eight years when my son was first diagnosed. Needless to say, I was ill-equipped for the ride. My body, which had once been my pillar of strength, became the focal point for all my anger, fear and confusion, and I lived in constant pain. I had to learn how to listen to its language, and open up to my journey in order to heal. Our bodies hold all our past stories, and I was a walking, breathing example of this, and so are you.
In today's exercise-crazed world, most of us have missed the point: building great abs is great, certainly, but it's not going to fix a broken marriage, or change destructive habits, or help us understand the connection between emotional pain and physical pain. We are multi-dimensional beings whose intuitions, dreams and energies are powerful tools we can use to create a strong, vibrant body and spirit, and build a life of meaning and purpose. I say we best get on with the journey.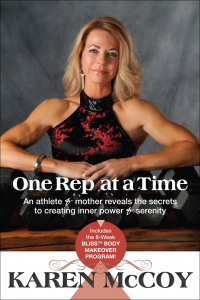 That's why I've included in this book the 8-Week BLISS Body Makeover Program, complete with videos and workout cards, and nutrition and lifestyle teachings to help you every step of the way. This is my thirty years of healthy living all wrapped up lovingly into one program, with hard-won lessons from my own life, which I know many of you will relate to. I guarantee you it is unlike any other exercise program you will ever encounter.
For me, my sport of choice has always been weight training, because I believe in that above all other exercise regimes. The skills required to build a strong, shapely body are the same skills needed to overcome intense challenges – strength, tenacity, focus, dedication and faith. The simple act of grabbing a weight and lifting it up is life-affirming. It's simple, clean and succinct. There's a start and an end. It doesn't get any more basic than that.
Life is hard. Few of us get through life unscathed, but surviving your own dark night means opening up to what is. It's about the intimate dance between holding on and letting go, and embracing its lessons. You learn to live fearlessly and with an open heart, and you learn to muscle into every moment like it was your last, because it just may be. This my son's journey has taught me.
Life isn't always lived in giant leaps and bounds. It's often lived in the small steps in between, the good and the bad ones, the glad and the sad ones, and the ones we often take for granted.
Sometimes life is lived just one step at a time … and One Rep at a Time.
With much love and respect,
 Karen
 – Excerpt from One Rep at a Time, by Karen McCoy. Available at Tanner's Books in Sidney, BC and on-line at Amazon.com and Amazon.ca.