Your Warrior Woman E-workout Cards and a summary of What's Up THIS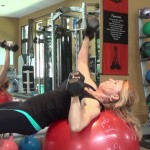 MONTH can now be found on our sister site: www.warriorwomanfitness.com.
So click on our new address, choose This Month's Workout, and you're in! All of our monthly interviews / coaching audios / lifting tips / nutrition lessons / articles, E-books and more are either linked within your E-Workout card or on our Warrior Woman Fitness website! Easy breezy! (Password is required. If you have techie issues, please email Theresa at theresa.scholes@gmail.com).
We also upload, chat, and support one another each day on our Warrior Woman  Private Facebook page so please make sure you're there with us!