Any decent trainer knows that the easy part of their job is teaching fitness….the hard part is keeping clients motivated and on track after the gym session is over.
That's why I moved away from the traditional gym model…it's great to teach someone an hour-long session, but then they go out the door and for the next few days (or weeks, depending on when the next training session is), they are out there on their own! And that's when they fumble…. and boy can they fumble!
That's why I created my own training program / model, so I could offer cost effective, flexible training, eating and lifestyle programs to women everywhere, and I could build in as much support as humanly possible! And that's what I've done!
That's what makes this Internet medium unique….I can use Skype, tele coaching calls, email, Facebook, videos, e-seminars…anything and everything. Love or hate the Internet if you will, but for fitness and nutrition, it is a gold mine, if you know how to use it and you use everything at your disposal.
No matter what the program – my 10 Week Challenge, 12-Week Advanced Challenge, the Monthly Healthy Living Program, or my Ft n Fab Competitors Program, I am always there for my women. Use me, I always say to them. I am here to serve YOU! (And I don't just say that to anyone!)
But every once in awhile we need human contact, yes? So we started our monthly Clean Eating Gatherings, where a different gal hosts the evening…. It's a chance to meet other women on the path, eat some amazing food, hang out and share stories, recipes….. and a few laughs! (Yep, last night at our Victoria Gathering we had to share the space with King Tut! You just never know who will show up! Fun).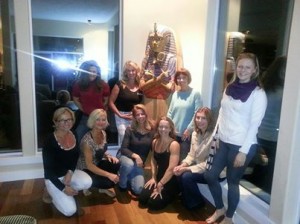 Whatever program you're on, or whoever your coach is, make sure you feel supported along the way, every minute of the day. In this day and age, there is simply no excuse for you NOT to be supported!
You deserve it!
karen
PS Don't forget to join my McCoy Fitness Facebook…daily tips to keep you on track and enlightened!