Welcome to the 10-Week Best Shape of Your Life Challenge!
I just know you're going to love this unique online program that I created 7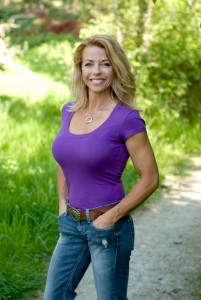 years ago, which has helped women everywhere trim, tone, and tighten their physiques while teaching them how to eat, train and live the Warrior Woman Way. You'll see!
Questions for YOU: I will be sending some questions your way, so I can better come to know you, and support you as best I can. There is also an Audio link at the bottom of that questionnaire, that tells you more about the Challenge and what to expect!
PRIVATE Facebook Challengers: We'll be using a private Facebook Page for the Challenge, and while it's not necessary, it is highly recommended. That way, we can work in group together and move you along seamlessly. Everyone needs a support community, and this helps me support you easier than email.
Your Payment: You may have noticed the additional fee of $41.99 (plus GST) on your receipt. Please note the you are not charged this at this time (it is dated 12 weeks after purchase, but if you purchased the Challenger seat earlier in the year, this date will be suspended until 2 weeks after the Challenge ends). This is to provide you with a FREE TRIAL of the WWGC after the Challenge, and if you like it and you decide to stay, the payments will be drawn monthly. Why do I do it this way? Because I want all my Challengers to test-drive our awesome Warrior Woman Group Coaching Program (most Challengers move over to the WWGC after the Challenge, to continue to progress and maintain all of your lovely gains from the Challenge). There are over 100 lovely women on the WWGC now, from all corners of the country, and they all started like you, on the Challenge! (I will make this more clear as we get into the Challenge, don't worry! There is NO obligation, but telling you about the WWGC program, and showing you the WWGC are two very different things, indeed!)
I don't like being Spammed! You may have to take me out of junk or spam. It happens on the Internet, I'm afraid! so unspam karen@mccoyfitness.ca
Techie difficulties or questions about payment etc? Please contact my lovely assistant, Theresa, at Theresa.scholes@gmail.com.  She'll help you out!
Karen