I heard a scary statistic this morning. By 2020 experts say the number one disability will become depression.
Depression. By the time you hit forty years old, you have likely had a bout with it. That's what the stats say too.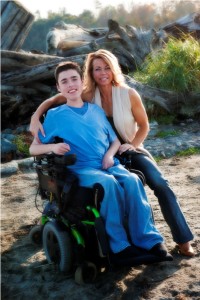 I had my time battling depression, and its sister, anxiety, for years. Being brought up in a chaotic household, and overcoming by becoming an over achiever set the tone. Then, with a desire to please, low self-esteem and learned helplessness, I dipped in and out of depression for years. And then I suffered through years of debilitating panic attacks (sometimes 20 a day) as I struggled to work through childhood issues and coping mechanisms that no longer served me, rather, they were  strangling my spirit.
When my son was diagnosed with muscular dystrophy, the clouds returned, and stayed for 8 long, dark years. I struggled to get through each day. I cried myself to sleep, night after night. I couldn't relate to anyone, or to the outside world. I was a prisoner in my own mind, helpless and drowning.
It took a long time to turn it around, but slowly I came to dismantle the destructive thought patterns and beliefs that once had served me so well as a child (in order to survive) but that were now crippling me. I came to understand that when you say, "that's just the way I am," indeed there is much hidden deep in our subconscious that simply needs to see the light in order to create the necessary shifts. But becoming objective about your patterns is indeed work.
And I found my path to healing was based in healing my physical body. I re-connected with weight training, because it helped be to connect with my power. Because when we are depressed, we are powerless, lost. Am I here to tell you that weight training or any kind of exercise will miraculously lift your spirits back into the light? No, that would be irresponsible of me. But it did give me a toe hold back into reality. There, in the gym, I could start to feel the connections again between my lost self and the self that had always been there, somewhere. This, along with proper eating and biofeedback work, slowly helped to part the dark clouds, and the sun began to shine bits of rays at a time. I could feel my spirit return. I had been there all along, behind the veil. Now the veil was parting.
If you are struggling with your own clouds, know that there are millions of us out there, all struggling to stay afloat, to fight back the clouds. My biggest lesson was in learning to let go, to accept, and to know that 'this too shall pass'. It was about dismantling the old, and staying open to the new.
Today, in all that I do and all my programs, we touch on the mental and spiritual aspects of things, simply because we cannot NOT touch on them. We are not just flesh and blood, to the contrary, we are a complicated mix of spirit and physical, all colliding to help us to bring our individual gifts and our purpose to life…if only we could see through the clouds. Sometimes we simply need validation that those clouds are real, and that it's ok to have cloudy days, and to know that we are not alone in our journeys. Many of us have walked the path, and we can help. I believe that's why we are here on this planet, to use our special gifts to help others. It's as simple as that really.
Karen
PS: My Fall session of the 10-Week Best Shape of Your Life Challenge starts soon. Grab your spot. We'd love to have you join us!