In Week 8 of the 10-Week Best Shape Challenge, we are looking at the Law of Attraction and how it works in your life. What does this have to do with physical fitness and health, you ask?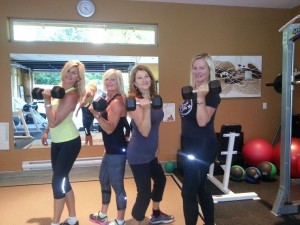 In a nutshell, everything. Well, almost everything (you still gotta lift that iron yourself…you can't manifest muscle!). But this is where some women get stuck – life happens to you, some things are not within your control, some things just are.
Sure, this is true, but I don't believe we are in a position to say which events this is true for. But I do believe that the concrete world – your finances, your earthly possessions – all fall under the rule of the Law. So for me, when I thought about building a small fitness studio on my yet-to-be home on Vancouver Island, I called in The Law.
For 8 years, I envisioned my studio. Heck, I even have the small brown napkin I penned my plan on 8 long years ago, while living in Ottawa, Ontario. I was sick, depressed, and my son had just been diagnosed with a devastating disease. I couldn't work, no family around…very tough times.
I knew that I needed to move forward in some small way, to start to create a hopeful feeling in my body, to feel excited about life again, amidst terrible odds. So one night, I sat down and drew out what I wanted for my work future, on a brown napkin (I'd show it to you but there is a 4-part plan on it, and well, I'd just as soon leave it private…helps me to stay more focused). I had no idea how it was to transpire, given our dire circumstance (I've learned that it's not my job to have the 'how' figured out. In fact, that halts the whole magical process.)
Here I am, 8 years later, with an active online health and fitness business (Part 1), and a great new training facility that I have opened up to small groups of women on my amazing property here, on Vancouver Island (Part 2). Parts 3 and 4 will also unfold…it can't NOT unfold, if I keep the focus…
Studio 8 is rockin'! And I'm loving it. And so are my clients! It's a true testament to the envisioning process, and to the continual action of focus and faith, and yes, there was hard work involved (these things don't just fall out of the sky, you know!). You gotta meet the Universe half way, I always say.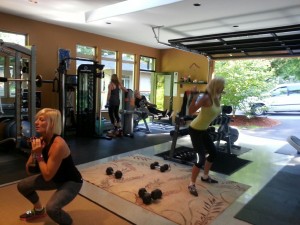 With over 100 women on my on-line fitness programs, I'm living proof, and so are they, that online CAN be a great way to train (and emailing a workout and email support is NOT what I call an on-line program…sorry, I call that an email program. For our HLP gals, we have audios, videos, recipes, seminars, webinars and more!). And now I can branch out to those women that would prefer the in-gym experience, because for those women, they want and need the in-class continuity. So now I've reached both types of clients. Cool!
Whatever your goals, know that you need to start the envisioning process, and take action on it every second of every day. Don't just wish for it (that's a sure-fire way to NOT get what you want), walk and live like you already have it! And voila! In time, you will (let go of the 'how' too. It's not your business!). Me and the clients I have in my Women on Weights classes are living proof of that!
Many thanks to Menuccia, Nancy, Brenda, and Alison (pictured above), and to my evening class mates- Christine, Heather, Samantha and Liz for showing up every week to our new digs here at Studio 8! Let's keep on rockin'!
Karen
PS For more info or to inquire about our classes, please CLICK HERE!