I just completed the latest 10-Week Best Shape Challenger, and what a lovely bunch of women it was!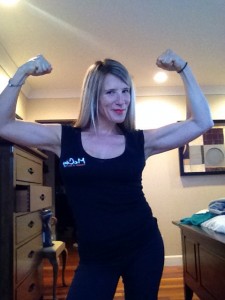 Twenty-five women completed the Challenge, and all found some level of success, as defined by them. See, many come to the Challenge to lose weight, but that's not always the case. The reasons vary widely..to gain strength, to learn how to lift properly, to build a stronger immune system, to learn about real nutrition, to change their lifestyle, to tighten and tone, to build muscle (my fav!), and more…
During our Final Challenger's Luncheon, some notable awards were handed out (as well as a McCoy Fitness Warrior Woman T-shirt, and a copy of my fitness book – One Rep at a Time):
– Biggest Loser Award: Tanya Lee (down 12 lbs, 10.5″ and 5% bodyfat). Pictured right and below.
– Runner Up Biggest Loser – Cathie Ounsted (down 14 lbs, 9.5″ and 4% bodtfat)
– Best Natural Athlete – Sue Hodgson
– Best Long Distance – Sheila Corman, Ontario (down 8.3 lbs, 9″ and 2% bodyfat)
– Best Contest Ready – Tina Halasz (ready for stage, I'd say)
– Best Body Renovation – Valerie Houghton (wow, serious shifting happening!)
– Best Natural Shape – Valerie Hansen (down 9 lbs, 10″ and 5% bodyfat)
– Golden Globe Award (55+ athlete) – Janis Jean (at her tender age of..well, 55+ she certainly is outside the box!
– Best Baby Builder – Sarah Pendray (aiming to keep soon-t0-be baby healthy and started on the right track!
Always a blast. Always confirming. Always unique. Thank you ladies. It's been my pleasure and privilege to work with you all. Now…keep the momentum, ok? Getting there is one thing, staying there (and continuing to progress) is another. And that's what my maintenance program – The Healthy Living Program – is all about, which you are all now on.
See you in 2015! (Graduates, you qualify for the Advanced Challenge…CLICK HERE!)
Karen
PS: Our next 10-Week Best Shape Challenge starts January 12th! Join us!
PSS Got a female family member who would appreciate a healthy gift? Buy her a spot in the next Challenge. SAMPLE GIFT CERTIFICATE HERE!
"I am so thrilled with how far I've come, and this is just the start! Thanks Karen for designing a program that I love, that fits my life, and that shows awesome results if you're willing to commit! You get what you give!" – Tanya Lee, (right) Victoria, BC
"I've always considered myself to be a fairly healthy and fit person, but Karen's program introduced me to a whole new way of thinking about my diet and my workouts. I have gained muscle and trimmed fat and feel the strongest that I have felt in years. Finally, I shed those extra 10 pounds and turned it into muscle. Fitting this into our busy lives is a challenge, but with short manageable workout routines, it is do-able. The 10 week challenge was the spark to get me going and now I know what I need to do to maintain my new shape and diet. Thanks Karen, for getting me on my way to a new and healthier body." – Valerie Pike, Victoria BC
"I have had such a great journey. Doing both challenges has been enough time to make these changes seem almost routine. I am so grateful to you and the work that you have done for us in creating your programs. They truly have altered my life." – Dariol Haydock
"I have to say that overall I am very pleased.  I feel so much stronger – was even able to do a dip and a pullup that I couldn't do at all before! I have ab muscles now at the top of my tummy between my ribs that I didn't have before so even though the measurements don't show that much difference I can definitely see and feel a difference!   Thank you so much for creating this program! Couldn't have done this on my own!" – Viola Vanderuyt