….. you're standing on stage in an itsy, bitsy shiny bikini. There are 1,000 pairs of eyes on you, scrutinizing every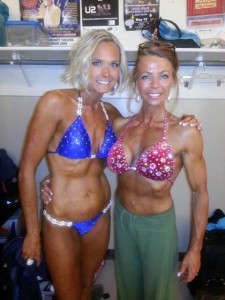 inch of your body. You are told to turn, flex, turn again….
That's what over 300 competitors did this past weekend at the Western Canadian Figure and Physique Show in Kelowna. All shapes and sizes, ages, backgrounds…all with their own dreams, their own goals, hopes, wishes….
For me, competing is just the icing on the cake, it's not the cake itself. I've said many times I prefer to live like an athlete, not a competitor. I live for the day to day commitment and discipline of clean eating, quality training, and focus and determination that every day brings when you live on the healthy bandwagon.
Competitions are a way for you to gauge your success, really, and to put a crowing achievement on it all. Because when you shave down your bodyfat to 15% or less, you can really, truly see your physique and all its lines in clear focus.
And you can also see how your body changes from year to year, no matter what your age (at 52, my body is still changing, and I'm happy to report, it's changing for the better!). Because that's what weight training does above all other sports – it allows you to shape and carve your awesome vessel into whatever you choose…a little more volume here, a little less there. Bring those glutes up, widen those shoulders some…
But the best part about competing for me is the tribe. There, in that back room, you are surrounded by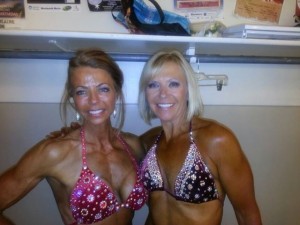 women of all walks, all converging in one final moment, one hope, one dream, to strut her commitment on stage, and let the chips fall where they may..
I had the pleasure of being with a handful of women that I've come to know and love, and who represent all that's good in our sport –  clean eating, hard work, and sheer dedication. I've seen Jen Lastikwa (above, right), change her body over the years when I first trained her as a  newbie weight lifting gal into a sexy, beautiful bikini competitor that she is today. This mom of two rocked the stage with her amazing beauty and grace!
I trained alongside Richelle Marleau (right) at PAK Fitness as we grunted and sweat our way through grueling pre competition workouts and shaved off the fat with hour after hour of gruelling cardio sessions. The result – Richelle took 6th in her first ever Masters Figure Show. Not bad, Richelle, not bad at all. And her physique totally transformed itself.
And Allison Dawson, my sister in arms (er, rather, biceps), who is a sheer example of raw power and grace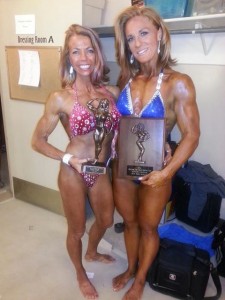 combined (bottom). Her awesome stage presence and posing won her Best Poser, and her hard, shapely muscles were to die for!
Each woman, regardless of size or placing, had every right to be there. And each competitor walked away on cloud 9, and rightly so. Their confidence was palpable…you could feel it in the air. It was simply electric.
Congrats to all the women at the Show, and a special thank you to Richelle, Allison and Jen for allowing me to be a part of the journey with them. I wouldn't have had it any other way. You rock, sistas!
See you next year!
karen

(Allison and me.  Allison won Best Posing Award and 5th Place (Physique), and me with my 3rd place Physique Award).