Well, I did it again….
I didn't mean to do it, really. I just happened to hold a sold-out seminar at my house in the summer called How to Eat, Live, Train and Think like a Competitor. Seems they were all interested in how Competitors live and prepare for stage.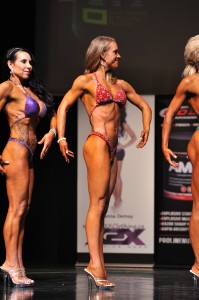 Since I went back into competition last year, I've kept video journals of the process and I regularly share it with my female clients. For me, it's always about sharing our experiences with each other: our highs and lows, our triumphs and our pitfalls, the interesting and the mundane, in an effort to share with each other. Because what I've learned in my 30+ years of teaching health and wellness is that no woman is an island: women need (and want) a community, a support network of like-minded women to share and learn from.
After I shared my philosophy of how to properly train and eat for show – how I did it 25 years ago and how I still do it today – clean, no drugs, no diuretics or fat burners, applying hard training, gentle cardio, organic foods, no artificials and quality sports supplements (and a healthy amount of calories!) – well, someone asked the inevitable: "why don't you coach us in competition?"
Uh oh….I just opened another door. "I'll think about it," I said.
Then Jane Henson approached me, a dear, long time friend who quietly asked if I would coach her into her first show. "I've searched around, interviewed other coaches, and honestly, I don't want anyone else as a coach except you. And I want to do it your way."
I thought for a minute, then said, "Alright, let's do it!" And we went to work.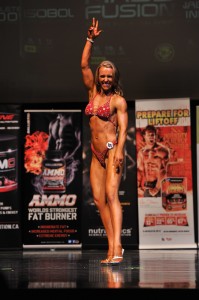 That was 5 months ago, and what a ride! Just two weeks ago, me and a bunch of ladies all headed over to the Vancouver show to watch and cheer Jane on. And when Jane stood on that stage, she just oozed energy, health and confidence! And she was feeling really, really good! She was truly a Warrior Woman that day, and we were all so proud of her! 
What's next? Well, I'm heading back into show again next summer, so I'm busy training for that. And it looks like I'll be coaching 3 lovely ladies along the way, ladies who have been with me for some time and whom all want to compete the Warrior Woman way, the healthy way. And it will be my sheer pleasure to do so. Thank you Sherry, Francesca and Lynn for walking the walk with me. We're gonna have a fabulous time! (Guess you can't back out now, eh?)
Coach Karen
PS Still looking for a Christmas idea? Why not give someone an 8-Week full-on training, eating and lifestyle program the Warrior Woman Way, with health, vitality and wellness in mind. My 8-Week BLISS Body Makeover Program, included in my One Rep at a Time fitness book is perfect! And it's FREE with purchase of my book! Videos, workout cards, eating plans, tips and tidbits, and of course, email support from me! Available at Amazon and at Tanners Books in Sidney and Russell's Books in Victoria.