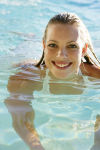 If you want to lose weight, have fuller muscles, tighter skin and loads of energy, grab your water and chug!
I drink 2 liters a day minimum, and you should too!
In fact, if I'm feeling tired, I usually clue in that I haven't drank any water, and it's time to grab some. Within 20 minutes or so, I'm recharged!
My secret – I own a 1-litre stainless steel bottle, and I know I have to drink 2 of them by the end of the day. It's easy for me to remember, and easy to follow.
PS Don't forget to sign up on your private HLP Facebook page, dediated to clients like you, with tons of additional info reserved just for current clients – HLP-ers and Challengers. Send me a request and I'll invite you in! Come join us!
I'm also on YouTube, Pinterest and Twitter…and oh yeah, on Body Building .com. (I know, I know….where do I find the time? Not sure myself!)