Personally, as a physique athlete I wouldn't do a butt implant, as the butt is a natural place that you have to tone and shapen with your craft, so you are judged on it (boobs are not…a boob isn't taking the place of a muscle that you are required to sharpen…the upper pecs always show above the boobs).
Anyway, here's a few pics…personally, not for me, but hey, to each his own, eh?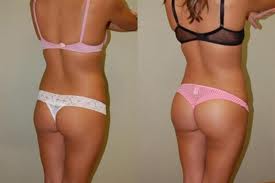 The first one is a regular woman…but when we train down, it can look like the one on the left, below (lady in the middle) and persoanlly, it looks weird to me. (I think she got kicked out for this, too).