Here's a picture of two different tomatoes.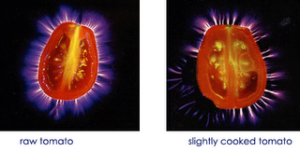 Again, the difference between raw and cooked.
Now, we all love spaghetti sauce with cooked tomoatos, that's not to say we dont' indulge. But it's just being aware of what our foods are really doing when we prepare them in different ways.
Eating with our eyes wide open, I always say….