When I first created my 8-Week BLISS Body Makeover Program, I was going to put it up for sale as a DVD for $99. With over 60 hours put into creating, writing and filming this program, I figured I would be able to sell it no problem.
Instead, I'm giving it away for FREE included in my fitness & lifestyle book – One Rep at a Time.
Why would you do that, many of you have asked? You're shooting yourself in the foot, given that you have other programs you're trying to sell.
It all depends on your intention. I learned that it's not about the sale per se, for me, anyway. First and foremost, it's about building a solid, trustworthy business with those who support me. It's about doing what I love, and what I love is teaching women the beauty, art and strength of weight training, and to show how it can indeed change  lives. 
There's no hitch. Heck, I don't even ask for an email when you sign into the program…it's there just for you to access, when and how often you like..for the length of the printed book. The password is in the book, and you get everything you need…workout videos, workout cards, clean eating recipes, and tools to implement to build emotional and spiritual health and wellness for life! 
It's my gift to you, and to women everywhere. I promise you, you will not find any program like this anywhere, for free and with no hitches. 
2012 is the year of paying it forward, and this year promises to be a good year, so I want to start my karma right and do my part. Please enjoy my gift to YOU!
karen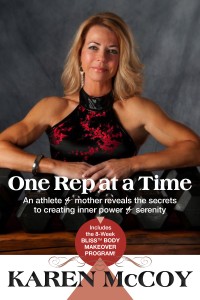 One Rep at a Time is available for $26.95 in local bookstores -Tanners Books (Sidney), Russell Books, Munro Books and Bolen Books (Victoria) and on Amazon.com / Amazon.ca.  $1 from the sale of every book goes to the Tristan Graham Foundation to help abused and abandoned animals. So you too are paying it forward! 🙂