As a trainer, a big part of my work is building the body's musculature. But in my experience, the most often overlooked muscle that defines our success is our BRAIN!
I'll say it again: health and wellness is an inside job, because long before we're sidelined with injury, or a tree falls on our car and we can't get to the gym, or we're abducted by aliens, we often end up giving up on our fitness goals. Why? Because our underlying beliefs determine our success.
So in my programs, we look at beliefs and what they mean. In my 10-Week Best Shape Challenge, we take a few weeks to look at our beliefs and how they come to define us. And one of the biggest roadblocks is in learning to let go of outdated beliefs, because here's the catch: we are supposed to update our Belief Map (as I call it). We no longer believe in Santa Claus or the Tooth Fairy, right?
So we dig deeper…what unconscious beliefs are at work within you? Perhaps you were told you don't deserve success, or you will always be heavy, or you don't have the strength to make lasting change. Were these your beliefs or hand-me-downs? Is it time to give them back? And ask yourself this: are you wanting and willing to give them back? (Don't laugh, a lot of people unconsciously don't want to, because it means owning their life and taking responsibility for it in full, a scary proposition indeed. But there is freedom on the other side….and success!).
Come join us in my Fall 10-Week Challenge and see where it takes you. We will have a Coaching Call on this, and other, very important topics, to try to unravel the ties that bind you, and help you move toward physical, nutritional and spiritual health and wellness.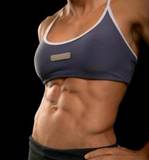 And you thought this was just another usual training program, eh?
Coach Karen
Spots are filling for my 10-Week Best Shape Challenge! Come join us! I'm with you every step of the way as we traverse through weight workouts, cardio rules, proper (and I mean proper!) eating and nutrition NOT based on Internet myths, and spiritual wellness as well, naturally! Because we can't get healthy unless it comes from the inside out. You ready to commit?
"Thank you Karen for your guidance and support. I loved the Challenge, and it set me on my healthy path! Keep up the amazing work! Women everywhere need to get on this program! Yes, I lost the weight, but more important, I got ME back!" – Jennifer Turn, Alberta