Our January session is now FULL! See you in September!

What is the 12-Week Advanced Best Shape Challenge? Simply put – it's serious training for the serious woman wanting serious results!
Who should apply? If you've been consistent in your weight training for the last 1-2 years, and if you've completed the 10-Week Best Shape Challenge, then this is the program for you! For more information, CLICK HERE!
This ADVANCED Challenge takes us above and beyond any gym program you've been doing, and even beyond my 10-Week Best Shape Challenge, so you've got to be up for the work! (Please note: – if you've had a lay-off and you're just getting back to it, you may want to consider the 10-Week Best Shape Challenge, to get you up to speed!).

We'll be training 4-5 days a week! And maybe 6 in the past phase…!You will need a gym to train in (no great body got built at home, unless, of course, your home gym rocks!) I'll teach you everything I know about getting in top-physical form with all the tricks of the training and eating trade – creating a mind-to-muscle connection, carb cycling, explosives, drop sets, negatives, supplements, and more! You ready?

Please watch my video…
With the 12-week Challenge, your goal is simply this: 12 weeks from NOW, you will be in the Best Shape of YOUR Life! And you'll walk away from it knowing more than almost any trainer out there….I promise you! And if your goals are to one day compete on stage or to see how your body looks when you get there, this program is for YOU! There will be prizes and of course our Final Best Shape Dinner!

How it works!
– I email you every Friday evening to open up the weeks' lessons, and I also send out your BSC Audio that will answer your questions, and summarize what we're up to that week! (These are NOT automated…they are freshly made every week, because every group is different!)
– You will access that week's lessons, complete with E-Workout Cards, exercise videos, and Nutrition and Lifestyle Lessons. I support you throughout the week through email, audios and Social Media, whatever it takes to keep you on course and motivated! We also have 4 check in points after each PHASE, where you complete a Bio-Feedback form to keep you on track!
– Each week's training, nutrition and spiritual themes build progressively on each other, to move you closer to your GOALS! There's a lot to learn, so we gotta stay sharp! This unique program is full-on!
– We work off a private Facebook page, where we meet daily! It's not a requirement, but it sure helps!
And remember, I'm with you every step of the way! I don't outsource to anyone! Promise!
ADD

ED BONUS: You'll also get a one-on-one FREE 20-30 minute Coaching Call with me (value of $90). ! So you can ask me anything, and stay motivated and on track! And you will receive a FREE TRIAL of my maintenance program that follows the Challenge, the HLP (Healthy Living Program), because getting there in one thing, staying there is another! (There is NO obligation to stay on this program, participants may unsubscribe at any time!)
Check out these two former Best Shape winners from 2010, Leanne and Chelsea. After the Challenge ended, they continued to train 5-6 days a week, and 18 months later, the results speak for themselves! They did so well in transforming their bodies, they both decided to compete! CLICK HERE!
YOU READY? To purchase your SPOT, GO HERE!

What we're covering, in a snapshot!…
PHASE 1 – Building the Machine!
Weeks 1-3: Overview
In this phase we start building shapely, sexy muscle! We re-visit the basic principals of clean eating and we clean out the cupboards, as well as establishing our current caloric load, and our macro-nutrient needs (yep, we're about the macro's NOT calories. When we look at food in macro's, the calories take care of themselves!). We're getting our brains, back on board! We also look at basic supplementation, some clean shopping ideas, and of course lots of training tips and tidbits to get you in the groove, using my HYBRID method of training, PERFECT for the 40+ woman! I'll also be throwing a bunch of clean eating recipes to get you going! We'll look at injury, recovery, immune health and more!
We will look at accessing the goddess within through the creation of personal Power Words as we learn to unleash our amazing power within and live as an Empowered Woman! Grab your FOCUS CARDS! We also have to work within our intensity zone (70% to start, which will progress to 80-85% as we move through).  Our hard work is not a hit-and-miss thing, it's science in action!
We'll be training 4 days a week on a quadruple split, so tighten up your weight training gloves! You're gonna love it! I promise! (And no cardio for this phase, we need to focus on tightening up our eating and building shapely muscle….so that's good news!) Are you Ready???
PHASE 2 – Burning the Fat!
Weeks 4-6: Overview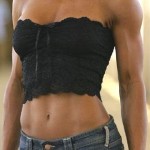 In this phase we learn proven techniques to rev the metabolism and burn the fat. Now that we've got shapely muscle being added to your lovely bones, we want to start teaching our bodies how to melt the excess away to reveal your new curves! We look at where your specific caloric needs must be in order to burn fat effectively, and we learn about sports supplements like creatine, glutamine, BCAA's, D-Ribose and more, and how much we individually need, according to our size, training and goals. No great body was ever built without them…I can guarantee you!
We also look at pre and post workout meals and shakes, and we look at the most important meal of the day (nope, it's not breakfast)! I show you the power of creating Menu Plans and my two golden rules for losing the weight (and keeping it off!). And we look at two important types of cardio, long slow distance (LSD) and high intensity interval training (HIIT) and we find out where exactly you need to be to be in the fat-burning zone for each, to ensure you're burning hot!
Oh yeah, and we're training 5 days a week now, and we're putting our weights up! We've also splintered off glutes so they can have their own designated workout day, because we all need it! (I've never heard anyone say…"Oh, my glutes are great, so I don't have to train them!"). We also look at my two golden rules for long-term fat loss, and we have a bunch of menu plans and recipes! I give you my personal list of clean shopping items from the grocery store, and you receive my 2 E-Books: Karen's Top 10 Tips for Losing Weight and 50 Reasons to Train! I love giving gifts!
PHASE 3 – The Nuts 'n Bolts of Real Training!
Weeks 7-9: Overview

In this phase, we get to the nuts 'n bolts of training! We take time to assess, really assess, our physique and see what area(s) need more focus. What do you want – wider shoulders? Smaller waist? Fuller quads? A thicker back? Objectivity is key here….take a look at your symmetry and balance and pick one or two key areas (this is where we look beyond the fat and look at our shape and musculature!)We are body sculptors, so let's sculpt!
This is where the pedal hits the metal as we up our training and keep our muscles off guard! You should never be bored in the weight room when you have so many lifting choices in front of you, so we delve deeper into advanced training techniques likeGiant Sets, Explosives, Supersets, Pyramids and more! It's all in your Advanced Training Techniques videos!. We also step into the secret world of advanced eating practices reserved for elite competitors: carb tapering, zig zagging, playing with percentages (protein up, fat down), carb loading, depleting and more… eating practices for lifelong success! This phase is full-on!
We will learn to prioritize our exercises to get the most from our training, and we learn the fine art of Hari Hachi Bu! And we've got the Real McCoy of training…come witness real training at its finest as you watch how its done in the real world as I link you up with some of my favourite gals and watch them in action.
Ever thought about competing? ?Maybe now you can!! We'll chat about that too, with lots of tips and resources for you to ponder your future…..
PHASE 4 – Taking it to the Streets!
Weeks 10-12: Overview

In this phase, we head into the home stretch in style, but we never take our foot off the gas pedal! We want to really unearth all our hard work and to further chisel out our sexy muscles to bring out all the curves! As usual, we stay tight with our eating and continue to strengthen our nutritional profile, and we look at safe fat-burning supplements that have been around a long time. Combined with a good exercise regime, they are the icing on the cake!
We increase our training to 6 days a week (if possible), and we continue to hit our muscles from all directions (multi-dimensional training). We play with supersets, giant sets and pyramids to up the ante! It's all about progressing, yes? Stale training creates a stale body that looks…well…stale! And we bring up that one lagging body part that we all have…yep, it's there! We're sculpting here, ladies!
In this phase, we become one with our muscles….something few trainers ever teach (or know) and fewer gym goers ever experience. Feel the high of intuitive training (it's what I call Putting Some Zen into Your Training!) We also look at how to train in sync with the days' cycles, and what a Perfect Day and a Perfect Plate really looks like! And I walk you through what a day in my life looks like with eating, training and more! And we find ways to stay motivated, stay lean and stay fresh in our training.
And what do we do when it's all over? Well, we'll chat…it's never really over, yes!